About
Who is Pete Thelen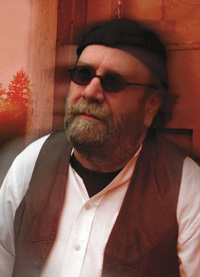 A few years after the Second World War, Pete Thelen was born into the American Midwest's cradle of blues: Chicago. He spent his first seventeen years there, listening to rock and roll and raising a bit of hell, before leaving home to join the Army. Thankfully, Uncle Sam sent him to Germany, and he got his first taste of the wider world that would come to influence so much of his life and art.
When he came back, Pete started his music career as part of the Here After, with a few old friends from his hometown, Wheaton, IL: Dean Reber, Chuck Parsons, and Dave Lamkey. But after chasing the dream, life intervened, with its marriages, children, and responsibilities. So, he hung up his microphone, traded it in for a briefcase and a more respectable wardrobe, and found himself building a hospital in Riyadh and managing skyscrapers on Michigan Avenue.
But the songs in Pete's head didn't fade, and he started writing and producing music as part-owner of Crystal Recording. With the studio's co-owner Charlie Prazma, Pete co-wrote "Welcome Home," honoring Vietnam Veterans. Chuck Britton at WLS in Chicago featured the song as part of the POW/MIA campaign in the 1980's.
And then, when life brought him to Arizona, Pete embarked on the next step in his musical journey. By forming the Blues Dinosaurs with his friend Greg Sheldon, Pete began singing some of the world's greatest songs, elemental blues songs written by the giants of the genre: Screamin' Jay Hawkins, Muddy Waters, B.B. King, and so many others.
Still, Pete wanted to bring his own songs to life. So, he started the Blues Today project, recording an album with long-time friend and collaborator Mike King, then two more, with a wide range of artists.
But as it has been in his life, so it is with his music: Pete's wanderlust sent him on another journey. Travels to the Edge finds Pete pushing his limits and ours, inviting us to journey with him, outward to Europe and New Orleans, and inward, into our hearts and dreams. He has been taking those journeys his whole life and he's back, Marco Polo, map and notes in hand, ready to share.
Given everything he's shared with us before, and the long strange trip it's been, nobody should be surprised.